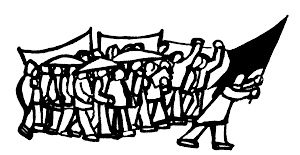 By Dave Riley
I'm sure there are some in my acquaintance who think I'm being pretentious in engineering a wiki for activism: T
he Activist Toolkit
. Their problem is that they take their own skills for granted and probably think they themselves have no need for upskilling.
My experience both of myself and others suggests otherwise, as this note indicates:
Hi Dave,
Just a quick note to let you know that I used your activist kit stuff on Public Speaking plus powerpoint for a presentation to the ..... Women Unionists seminar this past weekend. It was wonderful. Clear, easy to understand and informative. I then got the 18 women at the seminar to do debates. We had three topics and they each had two minutes to speak. They were all very nervous, some of the childcare workers had never spoken in public in their lives before, but they were great. So thanks for the terrific package of stuff.
It does my poor old bolshevik heart good to hear this. So while it may seem at times pedantic and maybe even patronising to sally forth this way -- don't hide your political light under a banner, share it!