By Dave Holmes
[This talk was presented at the A Century of Struggle — Laborism and the radical alternative: Lessons for today conference, held in Melbourne, Australia, on May 30, 2009. It was organised by Socialist Alliance and sponsored by Green Left Weekly, Australia's leading socialist newspaper. To read other talks presented at the conference, click HERE.]
The original Communist Party of Australia ceased to exist in 1991*. So it is a long while gone. Many comrades here would have had no experience of it. Yet for most of its 70-year history the CPA was Australia's major left party. At times the party had a significant impact on Australian politics — especially in the grim years of the Great Depression, during World War II and during the Cold War. Cynics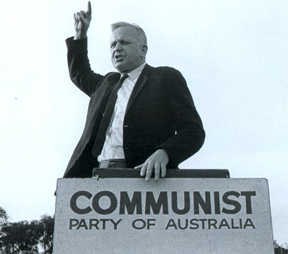 used to make cracks about the "party" of ex-members of the CPA being the biggest political formation in the country but what is true is that over these seven decades probably scores of thousands of people saw the party as the vehicle with which to fight for a better world.
For decades the CPA was a strong militant force in the trade union movement. It played a key role in supporting various national liberation struggles (Indonesia in its independence struggle against the Dutch after World War II and much later East Timor in its fight); it fought hard for civil liberties (we can mention the Egon Kisch case in the 1930s and the fight against Menzies push to ban the party in the early 1950s). In the field of culture the CPA — through writers such as Jean Devanny, Frank Hardy, Dorothy Hewett and Katherine Susannah Prichard — developed a strong influence.
However, despite the many undeniably positive chapters in the CPA's history there was another side. The CPA was created to fight for socialism and it recruited on that basis. But a gross contradiction developed. At the end of the 1920s the party became Stalinised. This meant that on all fundamental questions its politics were subordinated to those of the privileged conservative bureaucracy which had usurped power in the Soviet Union.
Read more....